Oysters Imperial
(or Bienville)
Ingredients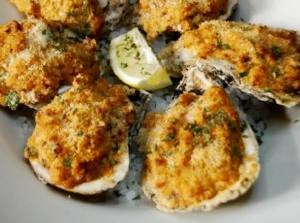 24 oysters
3/4 cup heavy cream
2 Tbsp butter
3/4 cup finely chopped mushrooms
1-1/2 Tbsp flour
3/4 cup cooked shrimp
1/2 cup chopped cooked crabmeat
2 Tbsp Cognac (or sherry)
1/2 tsp Worcestershire sauce
Salt and pepper to taste
Tabasco to taste
1/2 cup buttered bread crumbs
Directions
Remove oysters from shells reserving 1/4 cup liquid.
Dry 24 shells and arrange on a baking sheet.

Warm the cream and 1/4 cup oyster juice in a saucepan. Set aside.
Melt the butter in another pan and sauté the mushrooms.
Stir in the flour and cook until bubbling.
Slowly add the cream mixture, stirring constantly, until the sauce thickens, but at least 3 minutes.
Remove from the heat and add the remaining ingredients except the bread crumbs.

Place a bit of the mixture in each shell, then an oyster and top with more mixture.
Top with a sprinkling of bread crumbs.
Bake at 450°F for 5 to 10 minutes until the sauce bubbles.