Oysters Rockefeller
Ingredients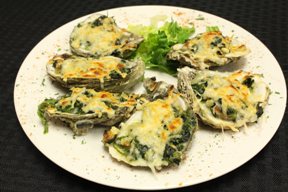 24 oysters
1 10-oz pkg frozen spinach, cooked and chopped
8 Tbsp butter
½ cup chopped parsley
2 chopped anchovy fillets
1 Tbsp Pernod (an anise-flavored liqueur)
1-½ tsp Worcestershire sauce
½ cup bread crumbs
Salt and pepper to taste
Tabasco to taste
1 cup grated Parmesan cheese
Directions
Remove oysters from shells reserving liquid.
Dry 24 shells and arrange on a baking sheet.

Melt the butter in a saucepan.
Stir in the spinach, parsley, and anchovies.
Remove from the heat and add the Pernod, Worcestershire sauce and bread crumbs.
Coarsely purée the mixture in a food processor or blender, thinning with the oyster liquid if necessary.
Season with salt, pepper and Tabasco.

Place an oyster in each shell, and top with the spinach mixture and a sprinkling of cheese.
Bake at 450°F for 5 to 10 minutes until the cheese is melted and slightly browned.